The use of patterned paper and a sticker sentiment really made this shaker come together super fast with that shaped shaker pouch. How cool is that swimming cat?! So fun to move it around in the pool and I'm sure it will be a hit with it's recipient.
I only added the sunscreen bottle from the At The Beach Set this time, but I like the little bit of extra variety it gives by mixing and matching. A cool drink would have worked well on this one, too, or sticking with just the Pool Party Set I could have gone with another beach ball or snorkle.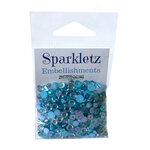 Ohuhu 200 Colors Dual Tips Alcohol Art Markers, Fine & Chisel - $99.99
from:
Thousandshores Inc.