I was finishing up some graduation thank yous and the frogs were on the same sheet that needed to get cut on the scan n cut. So they were colored quickly and off to Brother. I did finish my other thank yous first, but I needed a few cute ones for me to send out as well. (Yes, I know they are still sitting here waiting on salutations and addressed envelopes. I need a cattle prod to get my butt in gear on those types of things. ZAP...okay okay I'll write them out...ZAP....Sheesh it's only been three days I'll get them in envelopes...ZAP..ZAP...Yeah yeah, I get them in the mail...tomorrow. -recharge cattle prod battery dead- 😵🥴😂.)
Anyway, these just kind of happened as I was straightening my desk. I'm actually trying to get the create space cleaned up and organized again. Are you like me...you start, see a cleanish space and find something that you started and didn't finish and in the name of cleaning get everything dirty again because you finished that thing you really didn't need to finish in the mist of your cleaning? Yeah me neither.
These did actually pull together quickly because I'd been envisioning those googly eyed frogs since before I bought the set. And well that second one's sentiment is all that and a bag of flies.
Colored with my Ohuhu Bullet Nibs.
Greens- 46,47,48
Brown-95
Yellow-44 (maybe)
Products used:
CTMH Twitterpated Pattern Papers (retired long long time ago), Sky Cardstock
Jiggly Eyes
Action Wobbler
Spellbinders Nested Circle Stack 4" circle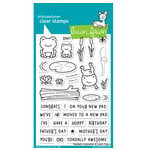 Keep Getting Inky,
Jaime