I'm loving the new Lawn Fawn release. I'm also loving the last one yet...so many ideas, so little time to make them all reality. But I'm sharing one of several projects I've gotten done with you today, and isn't it just adorable! Those art supplies and that Easel are going to be making a bunch of appearances for sure. Now on to the fun stuff...
A GIVEAWAY- one All The Party Hats Stamp Set from Lawn Fawn.
To be eligible you must subscribe to my channel and comment on this video. I will be picking a winner June 15th. I will contact to make sure all requirements are met or next random pick will be selected. Open worldwide. No one but me is responsible for this giveaway, not sponsored by anyone. I want to THANK YOU all for subscribing and getting me to that 500 subscription mark. Half way to my goal for the year! THANK YOU THANK YOU THANK YOU!
That exciting announcement-- I drew an image and it's being made into a stamp set. HOW FUN IS THAT!!!!!! My passions coming together farm animals and stamping! I'm thrilled to be teamed up with Lara from Ink Road Stamps. Check one off the bucket list...it really was one of my life long dreams. To be a creator for creators if you will. And it has all the snark that is totally my thang! It's actually called "Heifer, Please.", sorry I recorded pre-pre- release and grabbed the name from the Sneaks. Granted I don't actually own a Hairy Coo, but it's still a cow and it is adorable! One I don't actually have to milk everyday is an added bonus! (Not that I haven't begged and pleaded my case to my husband on the Scottish Highlander. We aren't equip to raise beef style cows on our place without some major renovations and dollars don't just appear even for cute cows. Dang it anywho. I'll just continue to stalk them on insta and my cousin's facebook.) I will post the preview and link on my blogpost. But make sure to check out Ink Road Stamps for all your snarky stamp needs. It's up for Pre-Order now, so it'll take about 8-10 weeks to get here, but you are guaranteed a set if you order now. If they sell out pre-release you might miss out or have to wait an extended time for the second run.
Keep Getting Inky,
Jaime
Find me @inkyandscrappy on Instagram. I love seeing projects I've inspired, please tag me so I don't miss them!
Products Used: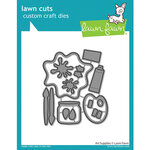 Lawn Fawn - Lawn Cuts - Dies - Art Supplies - $13.48
from:
Scrapbook.com

Lawn Fawn - Lawn Cuts - Dies - Canvas and Easel

Lawn Fawn - Clear Photopolymer Stamps - Dream Big

Lawn Fawn - Lawn Cuts - Dies - Dream Big

Lawn Fawn - Clear Photopolymer Stamps - Pool Party