This one turned out adorable. I love being able to pull in older sets and make them "new" again. Getting more use out of them makes my thrifty heart happy. It's one of my biggest loves for Lawn Fawn...all the possibilities to mix sets because of their continuity of sizes. It really is like playing paper dolls...if you can imagine it you can usually find something in a set to get it to paper.
I have so many images already colored and ready to be made into adorable cards. Here's hoping fieldwork for this rock picking farmgirl ends soon...hahahahahaha. It's gonna be a bit yet. We are almost done planting thankfully. As I type John is planting soybeans. One more field to get worked, rock picked, and planted. Then it's time to figure out what was lost in the storms and replant or work as needed. Not to mention get stuff cleaned up here and fixed. It's been a spring. Bring on the CAKE!
On a side note: I have teamed up with Scrapbook.com to get you links to products I use. If you happen to use one of them I will get a small commission. Hopefully it allows you to find what you need at a reputable source. I always fear linking Amazon links to stamps and dies as you never truly know if they are the real deal or a cheaper knock off. Happy Shopping and Thank You!
Products Used:

Lawn Fawn - Clear Photopolymer Stamps - Tea-rrific Day - $15.99
from:
Scrapbook.com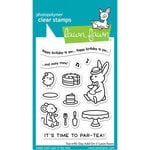 Lawn Fawn - Clear Photopolymer Stamps - Tea-rrific Day Add-On - $7.99
from:
Scrapbook.com

Lawn Fawn - Lawn Cuts - Dies - Tree House - $24.99
from:
Scrapbook.com

Echo Park - New Day Collection - 6 x 6 Paper Pad - $6.83
from: Scrapbook.com
Marker Combos-
Squirrel- Copic E27, E25. E21
Tree Bark- E49, E47, E44
Tree Table Top- Ohuhu 100, 128, 104
Acorns- Ohuhu 102, 134, 103
Green Blend- Copic G24, G21
Blue Blend- Copic BG72, Ohuhu BG5- Dolphin Blue
Red Blend- Copic R56, R85, RV11
Yellow Blend- Ohuhu 133, 125, 49
Orange Blend- Ohuhu 136, 133
Lilac Blend- Ohuhu 171, 169, 168
Keep Getting Inky,
Jaime