This weeks challenge is the first one set by Jeanet. She has made this sketch for you...


You can use anything you want as long as the sketch is clear.

Our sponsor this week is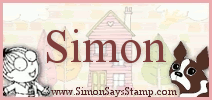 with a $ 20 shopping spree!!!
Here is my take on the sketch. . .
I was busy cleaning so the papers and image were on my pile on my table and I rolled with it. Hope you like. Good luck on CCC this week!